The Blog
Page 1 of 1
Free Wedding Valued at $90,000 - Vote Now for Your Favorite Couple!
Who should win a wedding?
Philly.com and Events at ISM are giving one lucky couple a wedding at the newly enhanced Independence Seaport Museum, to include catering from Culinary Concepts, a custom wedding dress, flowers, photography, wedding bands, and so much MUCH more!
CinemaCake will be producing a Same Day Edit which means the lucky couple will get to watch their film with their guests at the reception on a large HD screen!
Now that they have entered, it is your turn to decide what couple will win this amazing package worth over $90,000.
Once you choose the winning couple, you will also choose the bride's dress style, flowers, invitations, menu, cake, and wedding bands from options selected by the winning couple.
In short: (Full contest timeline)
1/18: Voting begins
2/14: Winning couple revealed
2/24 - 4/7: Vote on weddings specifics
CAST YOUR VOTE
Participating Partners
St. Thomas Wedding Video and St. John Wedding Video, Behind the Scenes
We always love shooting our wedding films in St. Thomas and St. John so when we were fortunate to line two of our destination weddings up on the same weekend - only one ferry ride apart from each other - we were thrilled. It's too bad we could not stay longer because the US Virgin Islands are just such a magical place to shoot.
Thank you US Airways for not screwing up like you usually do. With last minute destination shoots like these, we don't have a lot of travel choices. Most of the time, flying PHL to STT and back is uneventful, but it's always risky to try to cut the time too close, ESPECIALLY with US Airways, but Jordan and I had the most enjoyable flight down AND back. No lines at ticketing, security, OR for the obligatory shot of rum that was handed to us at the airport when we arrived. Good for you, US Air - keep up the good work!
The Team this weekend included Jordan, Mike, and myself on a non-stop weekend, including waking up before the chickens on Saturday for the sunrise. Unfortunately, we miscalculated and got up too early. One hour of waiting in the dark was worth it, though.
Establishing Shots
One of our favorite things to do is to get some establishing shots. We are like moths to a flame with sunrises, sunsets, and unique cloud cover and lighting situations that will help our clients remember the day as it was. In St. John, we even caught some amazing rainbows right before the ceremony.
Most of our clients prefer to keep their films private but if we get the green light from our clients, we'll post a trailer or a highlight reel here on our blog, so stay tuned.
To book your own CinemaCake Destination Wedding Film, contact us online or call toll free, 866-989-0158. Destination wedding films start at $8900.
Behind the scenes shots by Jordan Oplinger.
Tags: HD and Film productions - HD Weddings - Same Day Edit | Permalink
iVideoShow - The Online Expo for Wedding & Event Video
Sarasota, FL - Over 1,000 are already registered to attend WEVA iVideoShow – The Online Expo for Wedding Videographers & Event Filmmakers that will presented worldwide Wednesday, February 17, 2010. Registration is FREE. Click Here!
A free Holiday Prize Drawing will be held for ALL attendees who have registered for WEVA iVideoShow before midnight December 24th. Register NOW to receive updates on additional prize drawings for 2010! Winners of all WEVA iVideoShow Prize Drawings will be announced during show hours on February 17, 2010.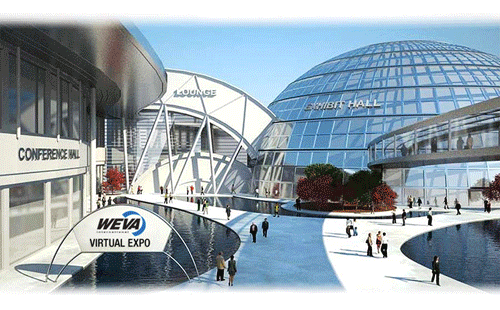 WEVA iVideoShow is the innovative, first-ever Online Expo dedicated to wedding & event video/DSLR professionals. "This groundbreaking event," said WEVA International Chairman Roy Chapman, "will allow all professionals from part-time to full-time, newcomers to veterans, Video/DSLR suppliers and manufacturers to come together to share new information, new technologies, new techniques, and support the development of our industry on a global scale - and without having to leave your home or office!"
Featured Speakers and topics are already announced on the WEVA iVideoShow Registration Site. "Moderators, and the schedule for the Live-Chat Q&A with Featured Speakers, and for the RoundTable sessions, will be added to the site soon," said John Zale WEVA's Director of Educational Development.
WEVA iVideoShow Exhibitors already include global manufacturers and suppliers such as Panasonic Broadcast and Adobe Systems. Special "Show-Only" discounts on new gear will be a Trade Show bonus feature, said Dan Argenas, WEVA's Director of Association Communications. Also coming for the Show, he added, will be highlights of WEVA Creative Excellence Award-winning wedding films.
"Plus, a brand new WEVA 'POWER of VIDEO' presentation with On-Demand access will also be included in the Show, and only available to registered attendees," said Argenas. "It all happens worldwide on Wednesday, February 17th 11:00am-7pm Eastern, on your computer." Register now: Click Here!

About Wedding & Event Videographers Association International (WEVA)
Founded over a decade ago, WEVA International is the largest trade association for professional wedding & event video producers, shooters and editors and leads the field with education that's on the cutting-edge of industry developments and new technologies. To see the full list of WEVA International membership benefits click here, and join WEVA today online.
Tags: Video Production Training - Wedding and Event Production News - Wedding and Event Videographers Association (WEVA) | Permalink
Page 1 of 1